Exciting news is on the horizon for homebuyers and renters in Cape Coral! Two industry leaders, Cape Coral Lots and JNS Homes, have joined forces to bring forth a groundbreaking partnership that will revolutionize the real estate landscape in the area. With their combined expertise, these companies are set to build exceptional homes for both rent and sale, offering an unprecedented level of quality, design, and value.
A Match Made in Real Estate Heaven!
Cape Coral Lots, a trusted name in land acquisition and development, has established a strong reputation for identifying prime residential lots in desirable locations. Their commitment to providing exceptional properties has earned them the trust of homebuyers and investors alike. On the other hand, JNS Homes is a renowned builder that has consistently delivered outstanding homes with a focus on luxury, innovation, and customer satisfaction.
With their shared vision of excellence, Cape Coral Lots and JNS Homes have set their sights on creating homes that cater to a diverse range of housing needs. Whether you're in search of a dream home to purchase or a high-quality rental property, this partnership aims to deliver exceptional options to suit your preferences.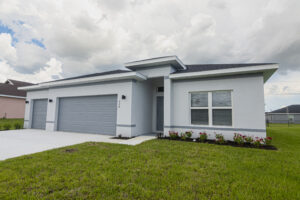 For those looking to own their piece of paradise, JNS Homes will be designing and constructing stunning custom homes on the carefully selected lots provided by Cape Coral Lots. These homes will be crafted with meticulous attention to detail, incorporating the latest architectural trends, premium materials, and energy-efficient features. From spacious interiors to elegant finishes, these homes will be a testament to superior craftsmanship and luxury living.
Simultaneously, the partnership will introduce a unique offering of build-to-rent communities. This concept provides renters with an unparalleled opportunity to experience the comfort, convenience, and quality of a brand-new home. Designed with the same level of craftsmanship and attention to detail, these homes for rent will boast modern layouts, high-end finishes, and desirable amenities.
Benefits for Homebuyers and Renters:
The collaboration between Cape Coral Lots and JNS Homes brings numerous benefits to prospective homeowners and renters:
Uncompromising Quality: Both companies are committed to delivering the highest standards of quality in every home they build. From superior construction materials to meticulous craftsmanship, you can trust that your future home will be built to stand the test of time.

Prime Locations: Cape Coral Lots specializes in identifying exceptional residential lots in sought-after areas. Whether it's waterfront properties or proximity to amenities, you can expect desirable locations that enhance your lifestyle.

Customization Options: For homebuyers, JNS Homes offers the opportunity to customize their dream homes to suit their preferences. From architectural design to finishes and fixtures, you can personalize every aspect of your new home.

Turnkey Rentals: Renters will benefit from the convenience and comfort of move-in ready homes with modern amenities. These homes are designed to provide a hassle-free rental experience, allowing tenants to enjoy a high standard of living without the burden of maintenance and repairs.
The partnership between Cape Coral Lots and JNS Homes marks a new era in real estate offerings in Cape Coral. With their shared commitment to excellence, these industry leaders are poised to redefine the concept of quality homes for both rent and sale. Whether you're looking to own your dream home or seeking a luxurious rental experience, this collaboration promises to deliver exceptional options that exceed expectations.
Stay tuned for updates and announcements as Cape Coral Lots and JNS Homes bring their collective expertise and passion for real estate to create remarkable communities and exceptional homes in the Cape Coral area.